By M&M Super Moving
Published on October 3rd, 2014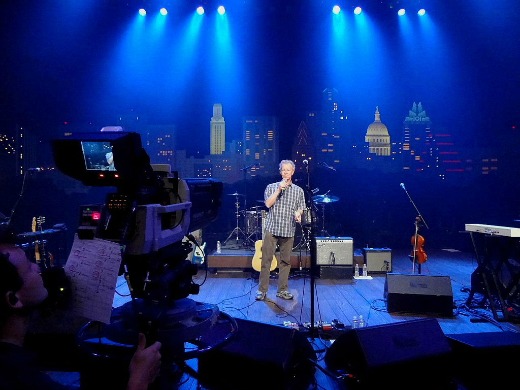 When Austin City Limits (ACL) was first recorded and aired by the Public Broadcasting Service (PBS) in 1976, critics were skeptical whether or not people would actually watch it. Back then, Austin wasn't the music "hub" it's considered to be today. Producers were taking a big gamble when they decided to record ACL – but the gamble paid off, as ACL has now celebrated over 40 successful seasons and counting.
The first ACL show aired in 1975, featuring legendary country singer-songwriter and actor Willie Nelson, Asleep at the Wheel, and the Original Texas Playboys. While the show has seen countless changes since this pilot episode, it remains true to the theme of delivering music television with a live look and feel.
Granted, Austin City Limits isn't aired live (usually), but it certainly gives the viewer the impression that he or she is watching it in real time. It's this element that's helped ACL survive the ups and downs of the music industry over the course of four full decades.
One of the most notable changes throughout the ACL's history was its relocation from the University of Texas campus to the Moody Theater venue. The campus simply became too small and constricting for the show, and producers were left to scout new locations.
The Moody Theater offered the perfect setting for a large, ever-growing Austin City Limits show, and so began a new chapter in the ACL's story.
The 40th anniversary ACL special featured a wide variety of musicians, including the popular rock band Foo Fighters who performed a cover of "Two-Headed Dog." ACL producer Terry Lickona talked about the long-running show in a recent interview, noting that Nick Cave has been hosting it for 30 years.
"Can you believe, after 40 years for 'Austin City Limits,' 30 years for Nick Cave, this is the first time they've been on the stage in front of our cameras? When the festival started, the show had already kind of hit its stride, but I think we had also reached a plateau," said Terry Lickona, the program's producer. "[We] wanted the reputation, the legacy, the credibility that the show brought along with it. In the process, it introduced all of these young people to the brand."
A celebratory 40-season Austin City Limits DVD/Blu-Ray will be released on December 2, 2014, titled Austin City Limits Celebrates 40 Years.
Our team of moving professionals specialize in making your move as easy and stress-free as possible and we would love to help with your next Austin move.  Get a free online moving quote today.
Read about more Austin Attractions here.
Comments Off

on Austin City Limits Celebrates 40 Years
Comments