By M&M Super Moving
Published on March 21st, 2014

Last week we posted an info-graphic titled Why Everyone Is Moving To Austin.   Here's another one, only this time it was created as a bit of a joke.
Austin is listed in almost every survey as being the best place to move, so this by Kammie Russel is based on humor. The 26 year old explains that while she loves Austin, when she shared the graphic her friends responded by telling her to stop trying to get them to move to here.
It didn't take long for her to create the Austin Sucks infographic with the negatives of our fair city. These include our lack of public transportation, the hundred degree days and the lack of major league sports as just some of the reasons to move elsewhere. She sites Houston and Dallas as better choices. You can purchase the 2′ x 3′ print on Etsy.
Kammie admits she thinks Austin is an amazing place to live.  "I hoped people would like it and respond to it even thought I'm not sure I have a right to complain about other people moving here," she said. "I thought it was a unique approach on Austin, which I do think is an amazing place to live."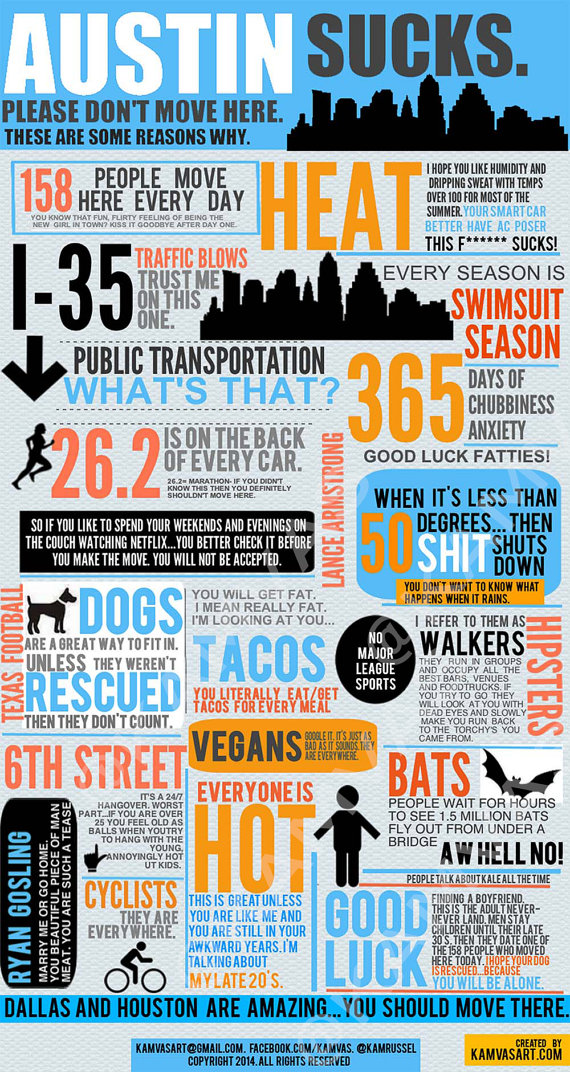 Read our 7 Reasons To Live In Austin Texas.
And when you are ready to move home or office we would love to help!  Get your free online quote today!
Comments Off

on Austin Sucks Infographic
Comments