By M&M Super Moving
Published on December 4th, 2014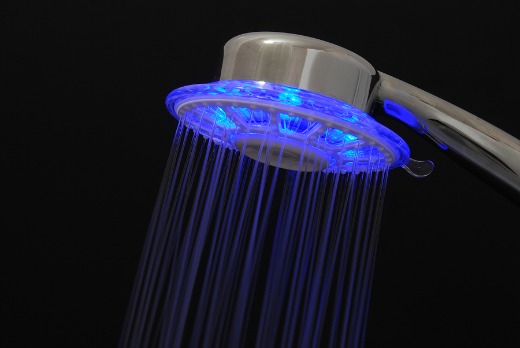 Most homeowners focus their bathroom renovations around the same generic projects like painting, installing a bathtub, flooring, shower door, vanity, etc. While all of these are excellent ideas for improving the aesthetics of a bathroom, they offer very little in terms of function.
So, how exactly do you improve the function of a bathroom? There are dozens of different ways to accomplish this, some of which involve high-tech gadgets. In this post, we're going to cover 5 of the top 'tech-savvy' bathroom improvements.
#1) Auto-Flushing Toilet
Does your hand get sore and blistered from having to manually flush the toilet every time nature calls? Okay, probably not, but an auto-flushing toilet is a neat tech-savvy bathroom improvement that more and more homeowners are using.
And contrary to what some people may believe, they're actually quite easy to install. You simply hook the kit up to your current toilet and install a motion sensor nearby. When you get off the toilet, the sensor triggers the toilet to flush.
#2) Digital Programmable Shower
If you're really looking to turn heads with your bathroom, you should consider installing a digital programmable shower. Just as the name suggests, these showers are fully customizable, allowing owners to adjust the temperature, water pressure, shower head and more.
It's no secret that a quality shower makes a world of difference in the bathroom. Investing in a digital programmable shower will allow you to fully enjoy your shower sessions, whether they're five minutes or fifteen.
#3) Smart Toilet
There are now 'smart toilets' available on the market which are designed to use less water. If paying your water company an outrageous amount for monthly service, try upgrading your bathroom to a smart toilet. They work just as well, if not better, than older model toilets, and you'll reap the benefits of having a lower monthly water bill.
#4) iPod/MP3 Player Dock and Stereo
Who doesn't enjoy listening to some tunes while they are showering or getting ready for work in the morning? While you can always take the route of placing a stereo in your bathroom, a better solution is to install a fixture with a built-in iPod and/or MP3 player dock.
You can find docks such as these built into toilets, vanities, mirrors and shelves. Alternatively, you can build your own with a little bit of do-it-yourself work.
#5) Television
This should come as no surprise to most people, but installing a flat-screen television in the bathroom is an excellent tech-savvy improvement for homeowners to consider.
There are obviously a few things you'll need to be aware of when installing a television in the bathroom, one of which is the potential for moisture damage. The high humidity of a bathroom can easily damage a television.
To prevent this, you'll have to install a plexiglass or similar plastic protective screen over the television. There are also televisions made specifically for outdoor and bathroom environments, which is another option to consider.
What are your ideas for a tech-savvy bathroom? Share them in the comments below.
Our team of moving professionals specialize in making your move as easy and stress-free as possible and we would love to help with your next move.  Get a free online moving quote today.
Comments Off

on 5 Tech-Savvy Bathroom Improvements
Comments