By M&M Super Moving
Published on November 20th, 2014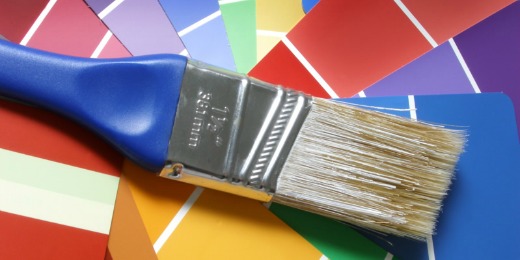 Whether you are sprucing up your house to sell or getting one ready to move in, adding a fresh coat of paint is arguably one of the most effective ways to revitalize a home's interior decor. Rearranging furniture and adding new decorative accessories will only take you so far; it's the color palette that holds the greatest influence over the décor.
Before you pick up a paintbrush and start swiping, however, you should first prepare the room by following the steps listed below.
Clear The Room
The first step in preparing a room for painting is to remove all of the furniture, furnishings, and any paintings or accessories hanging on the wall. Some homeowners may attempt to simply cover their furniture with tarp or drop cloths to save time, but this is just asking for trouble.
No matter how hard you try to prevent it, some of the paint will inevitably find its way onto your furniture. And it only takes a single drop of paint to ruin the upholstery. Unless you're willing to take this risk (which I don't recommend), move everything out of the room for the time being.
Remove Electrical Outlet and Light Switch Covers
There are still a couple more things you must do before you can begin painting. Using a Phillip's head screwdriver, remove all of the electrical outlet and light switch covers. Ever walk into someone's home and notice paint stuck on their outlet covers?
This is because they tried to take the easy way out by leaving them on while painting. To ensure your room looks pristine when the job is complete, go ahead and remove all electrical and light switch covers. It only takes a few minutes to remove them and put them back on later.
Clean The Walls
One of the biggest mistakes homeowners make when painting is failing to clean the walls beforehand. I know what you're probably thinking: why do I need to clean the walls if I'm going to paint over them? That's a good question, and there's an equally good answer to it.
Painting over walls that are dirty and dusty will result in a messy, unprofessional appearance. Typically, the dirt, dust and debris will create a textured look that does the room no justice.
You don't have to spend an entire afternoon deep cleaning your walls, but instead use a damp cloth to wipe them down from top to bottom. Try to avoid getting too much moisture on the walls, however, as it can impact the paint.
Protect The Floor
Last but not least, lay out several drop cloths to protect your floor from any spilled paint. If necessary, tape the edges together so there's no gaps in between.
You can pick up drop cloths from most home improvement stores for about $20-$30 bucks a piece, which is a small price to pay for the peace of mind knowing that your floor is protected.
Just remember to stretch them all the way to the baseboard (tape them against the wall), so there's no chance of paint spilling down the sides of the wall and onto the floor.
Got any other tips for us? Please share them in the comments below.
Our team of moving professionals specialize in making your move as easy and stress-free as possible and we would love to help with your next move.  Get a free online moving quote today.
Read more home moving tips here.
Comments Off

on How To Prepare a Room For Painting
Comments