By M&M Super Moving
Published on December 24th, 2014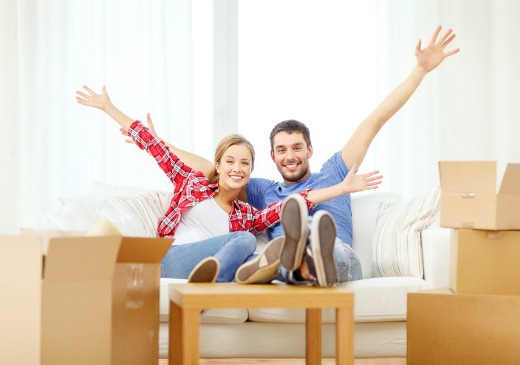 Moving is often viewed as laborious chore. While it certain requires some physical labor, it offers some surprising benefits as well. To learn more about the obvious and not-so-obvious benefits of moving, keep reading.
Exercise
To say moving is a "good exercise" would be an understatement. Moving heavy boxes on and off the truck burns calories while building muscle.
According to the health and fitness website FitDay.com, a 35-year-old male will burn approximately 311 calories per hour when moving furniture. Considering that most moves take several hours, if not longer, the exercise benefits of this activity are clear. Just remember to follow safe lifting practices (e.g. lift with your legs, not your back) to avoid injury.
Blank Palette
After moving into a new home, you'll have a blank palette on which to decorate. The interior décor possibilities of a new home are endless, as you'll have complete control over the colors, styles, designs and other elements.
Feel free to play around with different décor styles to see what works and what doesn't. After all, this is one of the many benefits of moving into a new home.
If you're struggling to find a color palette suitable for new home, pick up some paint swathes from your local home improvement store and tack them to the wall.
This will give you a better idea of how different colors will look. Once you've found the 'perfect' color, return to the store to purchase the paint.
Get Rid of Extra Furniture
Have some old furniture or other household items taking up space in your home? There's no better time than now to get rid of it.
Instead of bringing it to your new home, you can go ahead and either sell or trash it. Moving offers the perfect opportunity to do a little a spring cleaning, even if it's not spring.
Note: many charity organizations, such as Goodwill, will gladly accept used furniture. You won't receive cash for your donation, but they may give you a tax-deductible receipt.
Start Fresh
Of course, moving also gives you and your family the opportunity to start fresh. You'll have a new home, neighborhood, and possibly even a new city (depending on where you move). Take full advantage of this fresh start by putting your best foot forward, starting with your home.
Our team of moving professionals specialize in making your move as easy and stress-free as possible and we would love to help with your next move.  Get a free online moving quote today.
Read more home moving tips here.
Comments Off

on The Obvious and Not-So-Obvious Benefits of Moving
Comments