By M&M Super Moving
Published on December 1st, 2014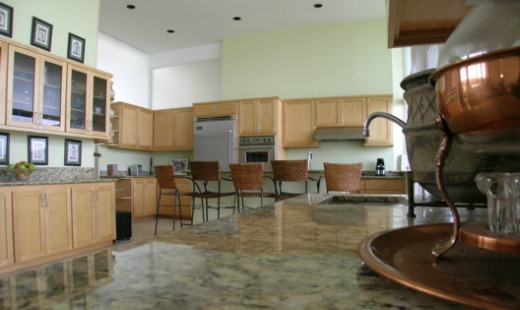 Does your kitchen suffer from a lack of style/design? That can be a big hindrance when it's time to sell your home and move. The look and feel of the kitchen is one of the biggest selling points and a major factor for those looking to buy.
When you're busy preparing the rest of the house to move, it's easy to overlook the kitchen. This is a critical mistake, however, that will ultimately affect the entire home's appearance, and ultimately your selling price.
Add Plants or Flowers
Something as simple as adding plants or flowers to your kitchen will add a unique sense of natural beauty that can't be reproduced by other accents or furnishings. Just pick up a vase or two and fill them with some of your favorite colored flowers.
If there's a window in your kitchen, place the flower-filled vase up on the frame where it will receive some sunlight throughout the day. Having the light beam down on your flowers through the window is a simple and easy way to create a more attractive kitchen.
Alternatively, you can also use potted plants to achieve a more stylish decor in your kitchen. While they usually won't be as colorful as flowers, they will in fact last longer as long as you keep them watered.
Take a visit to your local nursery and ask the employee for recommendations on low-maintenance house plants for your kitchen.
Use Brighter Colors
One of the reasons why so many kitchen fail with their decor is because they use dark, dull or otherwise plain colors. Switching to a brighter color scheme is almost sure to bring more life and energy to your kitchen.
This doesn't necessarily mean that you have to repaint the walls, but at least consider what color the furnishings and accents are.
Perhaps you can use some bright-colored display dishes to create a more attractive kitchen decor, or maybe you can install a bright backsplash behind the oven.
Utilize Counter Space
When you're busy decorating shelves, hutches, buffet tables and everything else in your dining room, it's easy to overlook the counters.
Sure, you're going to need some space to prepare food and lay your dishes out on, but you can also use them for decorating. For instance, place a large bowl with some fresh fruit on the counter to add more color and vibrancy to your kitchen.
Another idea is to place colored olive oil bottles out on your counter.
Do you have any other ideas to improve the look and feel of your kitchen? Please share them in the comments below.
Our team of moving professionals specialize in making your move as easy and stress-free as possible and we would love to help with your next move.  Get a free online moving quote today.
Read more tips on selling your home here.
Comments Off

on Improve Kitchen Decor Before Moving
Comments