By M&M Super Moving
Published on September 24th, 2014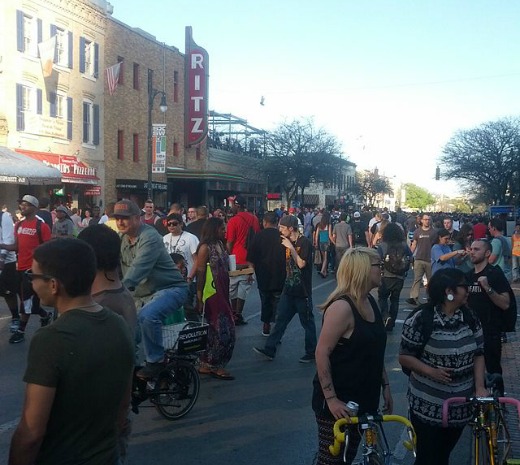 With its official slogan being "the live music capital of the world," it's safe to say Austin is a pioneer in the music scene. A recent report commissioned by Greyhill Advisors found the city's recent 2014 South By Southwest (SXSW) music festival generated an eye-opening $315 million, nearly a third more than the previous year.
The annual event takes place in the heart of Austin in mid March each year. SXSW originally began in 1987, attracting just a few thousand attendees at the time. With each passing year, however, more and more people began to show up for the event. It's now viewed as one of the most diverse music festivals in the country, attracting hundreds of thousands of people from the east coast to the west coast.
South By Southwest is owned and operated by SXSW, Inc. In addition to running this world-famous multi-day music festival, the company also hosts various trade shows, festivals, parties and events. SXSWedu, SXSW Eco and SXSW V2V are just a few of the many events which are hosted by SXSW, Inc.
The economic impact of the 2014 SXSW on Austin is unparalleled. In an interview with the Austin Business Journal, director Hugh Forrest compared the music festival to the Super Bowl. Forrest notes that SXSW is comparable to 65% of the economic impact of the Super Bowl being hosted in New Orleans.
So, why was this year's SXSW music festival such a success? Festivals such as this stimulate the local economy in a countless number of ways. In addition to purchasing the actual ticket, attendees also purchase hotel rooms, cabs/transportation, food, beverages, t-shirts, etc. This additional money gives local businesses a much needed boost, which in turn promotes growth and stability. It's a snowball effect that begins with the end consumer.
"From entertainment venues that employ local bands to hotels to retail establishments and all the support industry that provides services that visitors require to the many innovative businesses that have relocated or started up here because of exposure Austin gained during SXSW, this event has helped drive the thriving economy in Central Texas," Michael W. Rollins, Austin Chamber of Commerce president. "The fact is that all Austinites benefit from SXSW as the City of Austin has collected millions of dollars in taxes through the years that can be directly attributable to SXSW."
The next South By Southwest music festival is scheduled to take place March 13-22, 2015.
Our team of moving professionals specialize in making your move as easy and stress-free as possible and we would love to help with your next move.  Get a free online moving quote today.
Read more home moving tips here.
Comments Off

on SXSW 2014 Brings an Estimated $315 Million To Austin
Comments